ReviewCoreASPHosting.NET | Best and cheap Windows ASP.NET Hosting. HostForLIFE and HostGator are two reputed web hosting providers with more than ten years' experience in the market. HostForLIFE pays special attention to Windows hosting while HostGator offers a set of hosting solutions, including reseller hosting, VPS hosting, shared hosting, dedicated hosting, as well as the Windows hosting.
Because of their great reputation, it is not easy for webmasters to figure out who is the better provider for Window hosting. This HostForLIFE vs HostGator comparison is about to fix this issue. We will focus on their plans, performance, customer service and performance.
In the beginning, you can read the overall ratings about them.
[su_table]
| Rating | HostForLIFE | Hostgator |
| --- | --- | --- |
| Reputation | **** | *** |
| Features | ***** | **** |
| Loading Speed | ***** | ** |
| Technical Support | **** | ***** |
| Read More | HostForLIFE  | HostGator |
[/su_table]
Price and Money Back Guarantee
HostForLIFE.eu releases four plans called Classic, Budget, Economy and Business at the prices of €3.49/Mo. 15% OFF , €5.50/Mo. 15% OFF, €8.00/Mo. 15% OFF and €10.99/Mo. 15% OFF if you choose annual payment method. Three billing cycles with different prices are available in HostForLIFE.eu best ASP.NET hosting package. You can choose between 3-months, 1-year  3-year and 5-years payment methods.
[su_button url="http://hostforlife.eu/ASPNET-Shared-European-Hosting-Plans" style="ghost" background="#16cceb" color="#111010″ size="5″ icon="icon: hand-o-right" icon_color="#0f24b7″]Claim NOW![/su_button]
HostGator, in comparison, launches two plans, including Personal and Enterprise. They are charged with $5.95/mo and $17.95/mo in regular time. Now you are fortunate enough to get the lowest prices of $3.27/mo and $9.87/mo by using the coupon code HG45PERCENT for a 45% discount. The company offers five billing cycles, including 1 month, 6 months, 1 year, 2 years and 3 years.
HostForLIFE offers 30 days full refund while HostGator allows their users to get their full money back within a relatively longer time – 45 days. Both of them support anytime pro-rated refund.
Features
All the basic Windows hosting features are guaranteed by them, including sufficient disk space and monthly data transfer, multiple sub-domains and add-on domain, enough FTP accounts and email storages, as well as advanced Windows hosting technologies, such as 2012/2008 Windows servers, IIS 8/7, Isolated Application Pool, ASP.NET 2.0 to 4.5, MVC 1/2/3/4/5, AJAX and many more.
In the following, we choose the Basic plan from HostForLIFE and Personal plan from HostGator to make a clear comparison table about their features.
[su_table]
Feature
HostGator
HostForLIFE
Plan
Business Plus
Classic
Disk Space
Unlimited
Unlimited
Bandwidth
Unlimited
Unlimited
Windows Servers
2003 R2
2012/2016 R2
ASP.NET
1.0/2.0/3.5/4.0
2.0/3.5/4.5.2/4.6.x/5
ASP.NET MVC
Yes
Yes
Control Panel
Custom
PleskPanel
IIS Remote Management
No
Yes
Isolated Application Pool
Yes
Yes
Node.js
No
Yes
MS Web Deploy
No
Yes
Price
$5.95/mo

€3.49/Mo.

 15% OFF
How to Claim
–
Link Activation
[/su_table]
The table above indicates that HostForLIFE and HostGator have their own merits. For example, the former company offers the latest versions of IIS, ASP.NET and MS SQL while the later one includes more disk space and monthly data transfer.
As for the control panel, HostForLIFE uses PleskPanel while the other web host utilizes Plesk as their control panel. Besides, 1-click free installer allows the customers of the two companies to easily install many applications, such as DotNetNuke, nopCommerce and WordPress.
Performance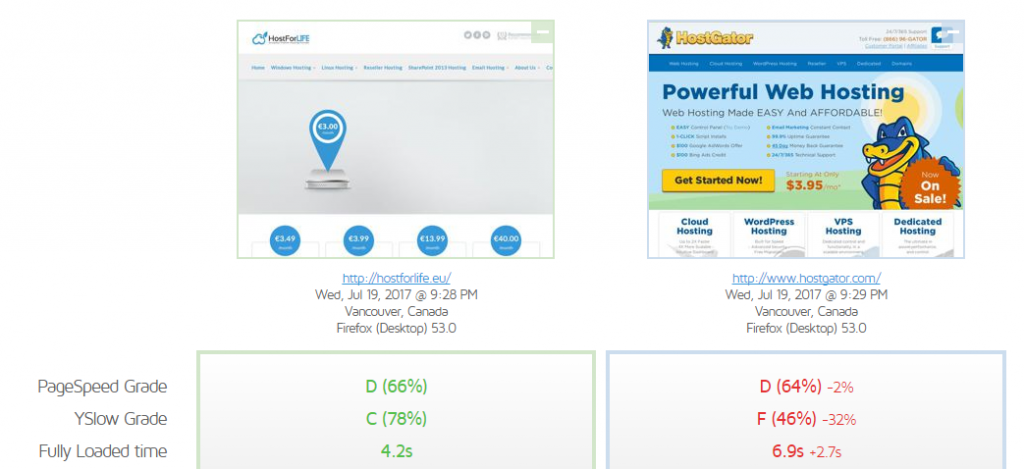 HostForLIFE locates their world-class data centers in the US and Europe. All the data centers are supported by high performance servers and network infrastructure, handprint system and redundant connection to ensure fast speed. In addition to that, the network of this company is monitored by their well-knowledgeable and experienced engineers who can solve potential event and accident.
Technical Support
Backed by hundreds of well-educated and experienced technicians, both HostForLIFE and HostGator are confident to provide around-the-clock technical support. No matter when you need help, you are accessible to contact their support personnel. However, a disadvantage of HostForLIFE is that this company does not offer live chat and phone call support, which might cause some inconvenience for webmasters.
The two companies have some other resources in their support center and knowledgebase. Especially, HostGator offers some video tutorials for beginners to better understand their services. The responses for their users confirm that the technical support of the two web hosts is satisfactory.
Summary
From this comprehensive comparison, we can conclude that both HostForLIFE and HostGator are great choices for Windows hosting. HostForLIFE is more suitable for the webmasters who pursue faster speed while HostGator is designed for those who want better technical support.